Koala Baby Changing Station
Baby Changing Station by Koala Kare Products a Division of Bobrick. GENUINE Koala Bear Kare ® Koala Baby Changing Station, Changing Stations, Baby Changing Table, Diaper, Commercial Baby Changing Station and other Koala products are the most well know and widely recognized baby changing station in the United State and the world. Koala manufactures the world's most utilized Baby Changing Stations, pioneering the industry since 1986 to establish its products as indispensable restroom standards that families depends upon in every public facility.
Koala Kare® is the # 1 most- specified brand baby changing station in the industry by businesses and architects because: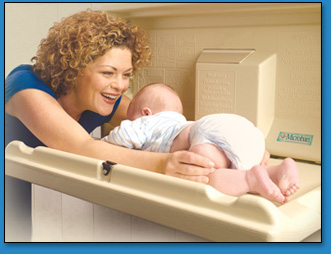 5 year limited warranty and
5 year replacement warranty against vandalism
Koala Baby Changing Stations are always safe, innovative and reliable
Properly installed products comply with the highest Americans with Disabilities Act (ADA) regulations, including the use of Braille on most polyethylene units.
Available in horizontal, vertical, oval, stainless steel or countertop designs.
For more information on our products, visit our Online Store, view our Product Specification Sheets or Color Chart. Our Products are Baby Changing Station, Diaper Changing Stations, Block Table, High Chair, Restaurant High Chair, Stainless Steel, Sanitary Liners, Swim Pant Dispenser, Infant Seat Kradles, Koala Straps and Replacement Parts, Straps, Koala Decals, Kids Activity Products, Waiting Room Toys, Fun Wall, Wire & Bead Tables, Activity Carpets, Kids Tables and Chairs, etc.
WE ACCEPT PURCHASE ORDERS!

Changing station and other products are used by most:
Churches
Restaurants (High Chair, Infant Seat Kradle)
Hotels
Medical Offices and Hospitals
Golf Courses
Professional Buildings
Malls - Shopping Centers
Movie Theatres

Auto Dealerships
Day Care & Childcare Facilities
Health Clubs
Community Centers
Parks & Recreation
Airports
General Contractors
Schools