Koala Baby Changing Station
This is the changing station that you see in restrooms at restaurants, malls, churches, parks, and other public areas. Your business needs to accommodate your client's infants, babies, and toddlers. The baby changing station encourages parents to remain rather than leave to attend to their children. This is the best selling and safest baby changing station available.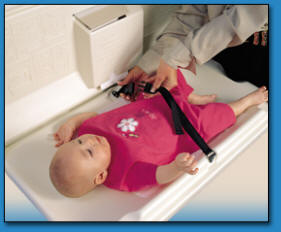 SPECIFICATIONS:
The Koala Baby Changing Station withstands a static loads up to 400 pounds. Steel-on-steel hinges with 10 gauge steel mounting supports makes the station valid resistant. Pneumatic gas shock mechanism to ensure smooth, safe opening and closing of the station. Child protection strap easily locks to hold child secure. Sanitary liner dispenser holds 25 liners. High-impact polyethylene with Microban® makes the changing station tough and blocks the growth of harmful odor causing bacteria. The changing station has no sharp corners, and cleans easily. A convenient door plaque clearly identifies family friendly restrooms. Easy step-by-step instructions plus all mounting hardware for a easy installation are included.
ADA COMPLIANCE: Koala Baby Changing Stations meet ADA regulations when installed properly because the baby changing station extends no more than 4" from the wall when closed, it complies with ADA regulation 4.4.1 when and where applicable. The changing station can be installed with the bottom leading edge at 27" from the floor to meet regulation 4.4.1. Where space is limited and only a forward approach is allowed, the horizontal changing station can be installed in compliance with 4.2.5. If the space allows parallel approach by a person in a wheelchair, the horizontal, vertical and oval changing stations can be installed to meet 4.2.6.
All polyethylene changing stations have braille instructions molded on the outside of the doors. Braille instructions are recommended by the National Federation of the Blind and comply with ADA regulation 4.30.4.